Netarhat Awasiya Vidyalaya Intermediate Admission Form 2022 : झारखण्ड में संचालित नेतरहाट आवासीय विद्यालय में कक्षा 11वीं (सत्र 2022-24) के विज्ञान एवं कला में दाखिला के लिए अधिसूचना जारी कर दिया गया है | दाखिला केवल नेतरहाट आवासीय के 10वीं पास छात्र एवं छात्रा ही फॉर्म भर सकते हैं | Netarhat Awasiya Vidyalaya 11th Admission Form 2022-24
Latest Update –विद्यार्थी फॉर्म भर कर ऑनलाइन के माध्यम से E – Mails ID पर अंतिम तारीख से पहले भेजें अंतिम तारीख – 25.08.2022
Netarhat Awasiya Vidyalaya Intermediate Admission Form 2022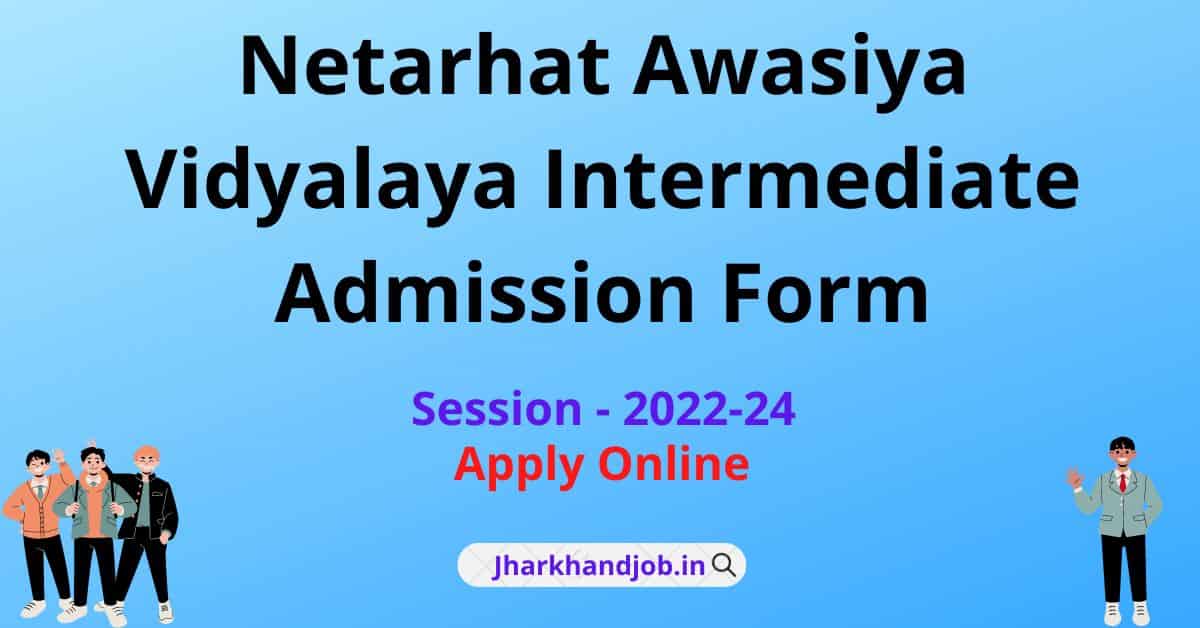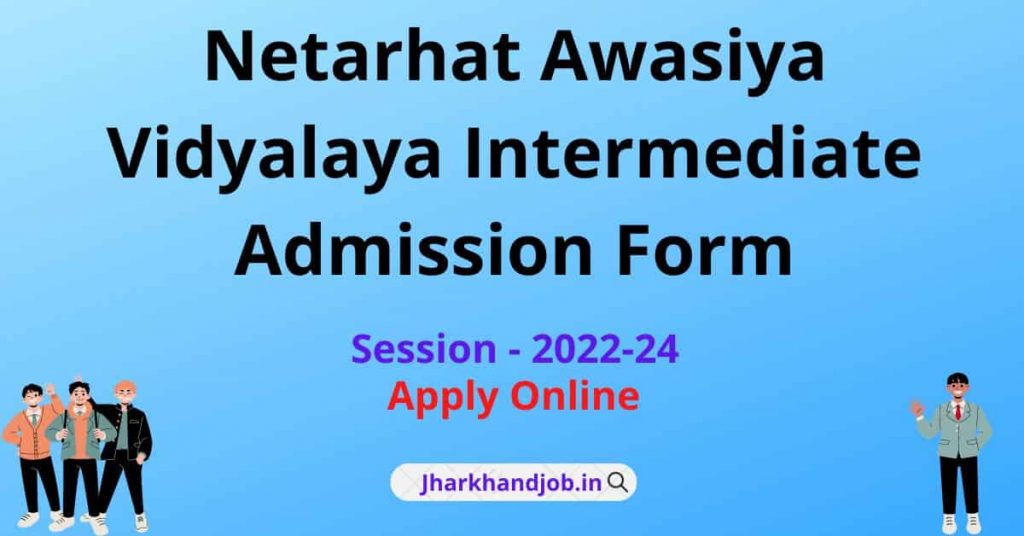 | | |
| --- | --- |
| Article | Netarhat Awasiya Vidyalaya Admission 2022-24 |
| Category | Admission |
| School Name | Netarhat Vidyalaya |
| Authority | CBSE Board |
| Advt No. | 1254 |
| Class | 11th or Intermediate |
| Session | 2022-24 |
| Start Date | 05.08.2022 |
| Mode of Apply | Online |
| Official Website | netarhatvidyalaya.com |
नेतरहाट आवासीय विद्यालय कक्षा 11th एडमिशन
नेतरहाट आवासीय विद्यालय में कक्षा 11th (विज्ञान या आर्ट्स ) में एडमिशन पाने के लिए आवेदन शुरू हो चूका है | अतः इच्छुक विद्यार्थी एडमिशन पाने के लिए आवेदन कर सकते है लेकिन आपको आवेदन करने से पहले ऑफिसियल नोटिफिकेशन अवश्य पढ़ना चाहिए | इसके अलावा नीचे दिए गए जानकारी को भी आप पढ़ सकते है | नेतरहाट विद्यालय से जुडी सभी अपडेट पाते रहने के लिए आप इस पेज को बुकमार्क (Bookmark)भी कर सकते है|
Eligibility Criteria
विद्यार्थी झारखण्ड नेतरहाट आवासीय विद्यालय 10वीं कक्षा 2022 में पास होना चाहिए |
How to apply Online in Netarhat Awasiya Vidyalaya Class 11th Admission 2022 -24 ?
फॉर्म ऑनलाइन के माध्यम से भर सकते हैं , फॉर्म डाउनलोड करके भर ले तथा अंतिम तिथि से पहले दिए गए ई – मेल पर भेज दें | E – Mail ID – [email protected] फॉर्म लिंक सेक्शन में दिया गया हैं |
Important Date
| | |
| --- | --- |
| Start Date | 05.08.2022 |
| Last Date | 25.08.2022 |
Important Link
Check also-
For any query regarding Jharkhand Job, Admission, Exam Date, Admit Card, Result. You Can comment in the comment section below or send you query to email address.
For getting all Jharkhand admission, result and govt job notification visit our website regularly. Type always in google search Jharkhandjob.in
| | |
| --- | --- |
| झारखंड जॉब की जानकारी के लिए यहाँ पर जाए | Jharkhand Job |
| झारखंड मे कॉलेज, विश्वविद्यालय एडमिशन जानकारी के लिए यहाँ पर जाए | Admission |
| Result की जानकारी के लिए यहाँ पर जाए | Result |
| एड्मिट कार्ड की जानकारी के लिए यहाँ पर जाए | Admit Card |
FAQs for Netarhat Awasiya Vidyalaya Intermediate Admission 2022
What is the last date to fill the form ?
The last date to fill the form is on 25.08.2022.
Where to send the form after filling it?
Students can be send to Principal E-mail ID After Fill the Form – [email protected]
How to get the form for Admission in the Netarhat Awasiya Vidyalaya Intermediate Session 2022-24 ?
You can download Application form from official Website – www.netarhatvidyalaya.com