JharkhandJob.in is career related platform where Career topic is shared and discussed for a particular regions Jharkhand State. You can find Here Jharkhand Job, Jharkhand School Admission Form Information, Jharkhand State University Exam Date and Admission Form, Jharkhand State Yojana Online form and Offline Form and etc.
Following Information are shared here in the category as given below – 
Jharkhand Govt Job and

Jharkhand Rojgar Mela Bhrati Yojana

Form
Jharkhand Admit Card
Jharkhand Result
Jharkhand Exam Date
Jharkhand is for particular region like Jharkhand State. It guides the people who want to get Jharkhand Govt Job, Jharkhand Job, University Admission Form, University Exam Date Notice, Admit Card, Result and more information.
So it is an easy work for people to find a Job and Career information in a place. You can also gather information from here and processed further for forward steps.
Always type – jharkhandjob.in
Other Keywords : Jharkhand Job Portal, Job in Jharkhand, Jharkhand Vacancy, Jharkhand Jobs, Jhar Job, Jharkhand Job Vacancy, Jharkhand Recruitment, Jobs in Jharkhand, Jharkhand Recruitment Portal, Jharkhand Career Portal, झारखण्ड जॉब पोर्टल, झारखण्ड करियर पोर्टल, Jhar Job Alert, Jharkhand Job Alert, Latest Job in Jharkhand, Jharkhand Job Alert.
Every Government Department need a manpower to finish the workload that is why Govt. Department releases the notification for Vacancy at different time period. Following Jharkhand Govt. Department are given belwo – 
Jharkhand Public Service Commission (JPSC)
Jharkhand Staff Selection Commission (JSSC)
Jharkhand Rojgar Mela Bharti (Jharkhand Employment Exchange)
Jharkhand Education Project Council (JEPC)
Jharkhand State Health Society
Jharkhand Career Infomation
We (JharkhandJob.in) collect the information from different different official website and authentic website and then shared here in front of you to aware of the detail about Jharkhand Job, Admission, Admit Card, Result and all other information in one place.
So here are the some official website for Jharkhand career and job –
JPSC (Jharkhand Puclic Service Commission) –

Click Here

JSSC (Jharkhand Staff Selection Commission) –

Click Here

Jharkhand Education Project Council (JEPC) –

Click Here



Jharkhand All District List
There are total 24 District in Jharkhand State. Here are the list as given below –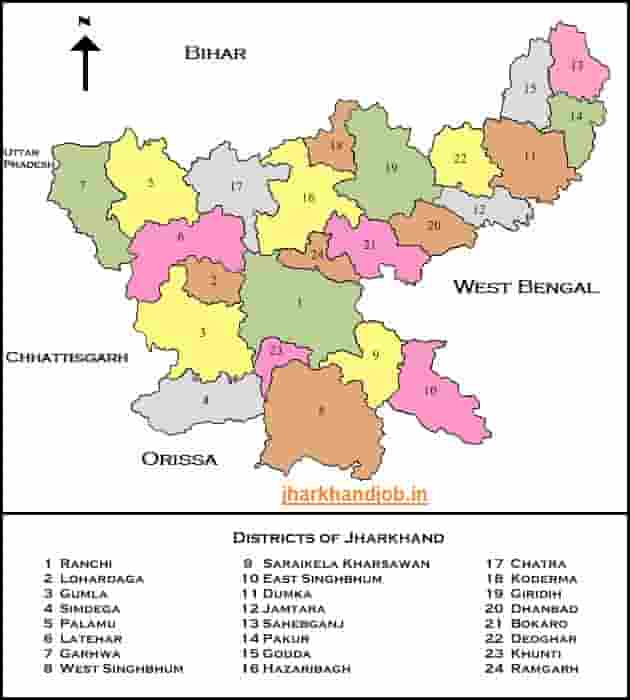 First of all you know or you do not know that Jharkhand wad a part of a part of Bihar and The Jharkhand was created on 15th November 2000. Jharkhand means "The Land of Forest".  The capital of Jharkhand is Ranchi. It has an area of 79,710 Km Square. It is the 15th Largest state by area and 14th largest by population.
Now Let's have a look at some important information that is arranged in a table format below –
State
Jharkhand
Created on
15th November 2000
Capital
Ranchi
Total District
24
Largest City
Jamshedpur
Total Area
79,714 Km Square
Area Rank
15th
Population
3,29,88,134
Population Rank
14th
Population Density
414 Km square
Government
Body
Government of Jharkhand
Governer
Draupadi Murmu
Chief Minister
Hemant Soren (JMM)
Legislature
81 Seats
Parliamentary
Rajya Sabha – 6 | Loksabha- 14
High Court
Jharkhand High Court
Languages
Official Language
Hindi
Other Recognised
Angika, Bengali, Bhojpuri, Ho, Kharia, Khortha, Kurmali, Kurukh, Magahi, Maithali, Mundari, Nagpuri, Odia, Santhali, Urdu
Official Website
Website
Symbols of Jharkhand
Mammal
Indian Elephant
Bird
Koel
Flower
Palash
Tree
Sal