The General Aptitude Test in Engineering (GATE) is a national-level entrance exam that opens the gateway for a rewarding career in public sector organizations and research and development for students of engineering and science backgrounds. The GATE Committee, which consists of faculty members from the Indian Institute of Science (IISc), Bangalore and the other seven Indian Institutes of Technology (IITs), administers and conducts the exam in eight zones across the country.
To Crack the GATE Mechanical Engineering (ME) exam is tough but not impossible. Mechanical engineering graduates preparing for the GATE (ME) exam need to have a good strategy in place.
On that note, let's talk about some important preparation tips for cracking GATE Mechanical Engineering Exam that will help you find the right path to crack the GATE ME exam.
How to Crack GATE Mechanical Engineering Exam in First Attempt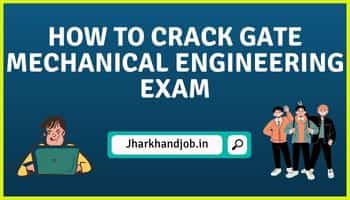 Secure Right Books and Material for Preparation
This should be the initial step before starting your preparation. Look for books and study material that have relevant information and are up to date as per the latest GATE (ME) Syllabus.
Besides books, you also make use of GATE ME Online Coaching, courses, notes and more. Furthermore, keep in mind to not refer to multiple books and sources for each subject.
Make and Follow a Study Plan
Achieving any goal requires a well-thought-out plan and cracking the GATE ME exam is no different. It is highly recommended that you start with Engineering Mathematics and a basic technical subject to build momentum.
Go one topic at a time and make short notes and highlight important points in each topic so that later you can revise them quickly. Practice enough questions after each topic to get a good grip on the concepts. Furthermore, clear any doubt regarding concepts to get a sound understanding of the topic.
Know the GATE (ME) Exam and Syllabus
Since there are multiple subjects in the vast GATE ME syllabus, which will take months of your time to cover them properly. Due to this, it becomes important to know which topics you must study which ones you should omit in a subject to be able to cover the entire syllabus in your limited preparation time. This will help you in making a preparation plan for each subject.
Give Regular Mock Tests
Take regular quizzes and mock tests to improve your speed and accuracy. This will also help you in identifying your weak areas so that you can work on them to further improve your performance and your chances of cracking the GATE (ME) exam.
There are multiple test preparation apps available online through which allow you to attempt daily quizzes and mock tests on your smartphone. You can find and download the best test preparation apps from the google play store to start your practice.
Focus More on Topics Carrying Higher Weightage
Solving previous years' GATE ME papers will give you the knowledge of topics carrying higher weightage. You must focus more on these topics, study them thoroughly and get familiar with the different types of questions asked from them as these topics can fetch you a good score in the GATE exam.
Revise Everything to Crack GATE Mechanical Engineering Exam
Making notes is of no use if you are not revising them regularly. Given the vast syllabus of the GATE ME exam, it becomes extremely difficult to remember the concepts and details studied.
It is wise to revise notes on a weekly basis to recall important concepts and points before moving on to further topics in each subject. Repeated revision of a topic will make it easier for you to recall concepts and at the same time will reduce your revision time.
Lastly, identify the weak topics, give them extra time and revise them properly.
Also check this :
If you have still any doubt, you can comment below in the comment section or join our social media handle so that you keep update yourself.
Join us on Social Media