DSPMU B.Sc. Computer Application Entrance Exam Date 2022 : झारखण्ड के विद्यार्थीओ के लिए Dr. Shyama Prasad Mukherjee University की ओर से नोटिस जारी किया गया है | जिन विद्यार्थीओ ने B. Sc. (Computer Application) में एडमिशन के लिए फॉर्म भरे हैं | उनके लिए Exam Date Notice जारी किया गया है | इस पेज पर बने रहें अधिक जानकारी के लिए |
Latest update – DSPMU B.Sc. Computer Application Entrance Date Notice Out – Download PDF Given in link Section
DSPMU B.Sc. Computer Application Entrance Exam Date 2022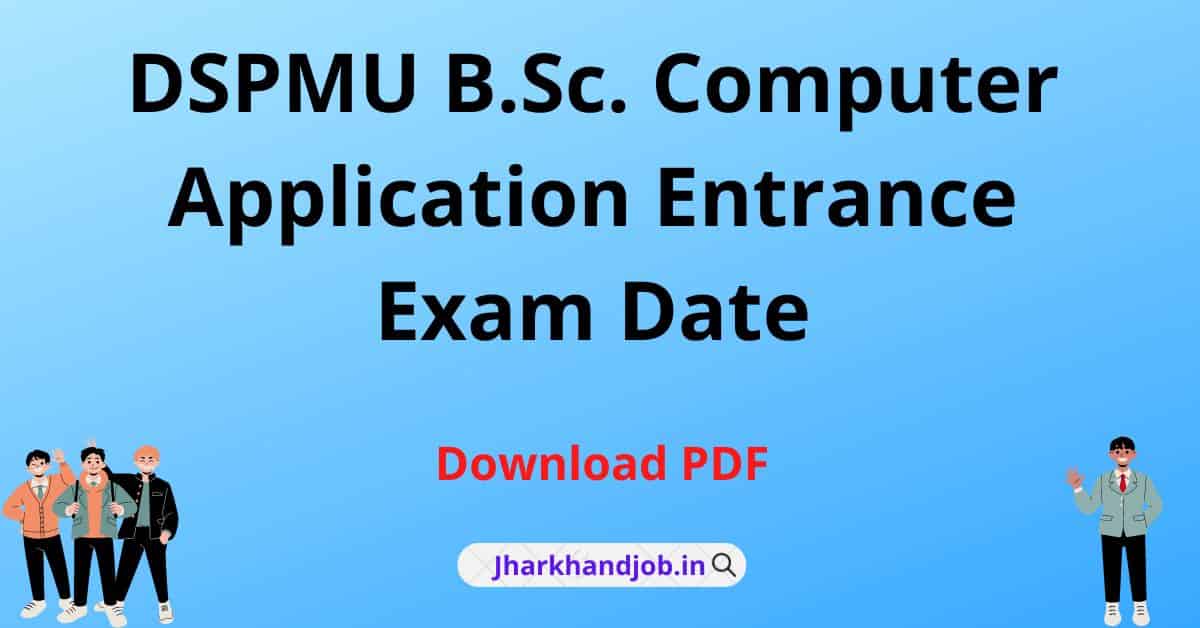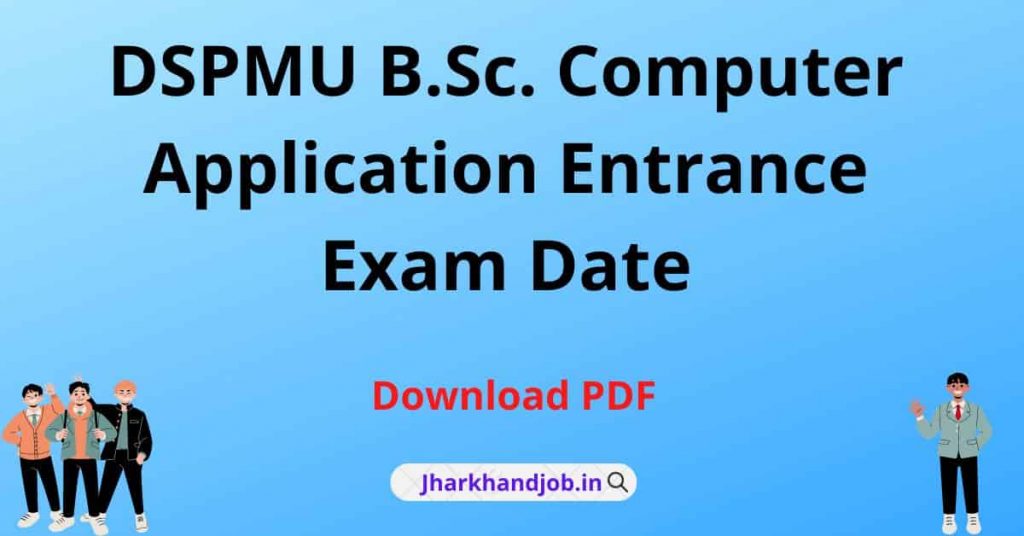 | | |
| --- | --- |
| Article | DSPMU B.Sc. Computer Application Entrance Exam Date 2022 |
| Category | Exam Date |
| Authority | Dr. Shyam Prasad Mukherjee University |
| Eligible Class | UG -B. Sc. Computer Application |
| State | Jharkhand |
| Current Year | 2022 |
| Exam Date Status | PDF Available |
| Official Website | http://www.dspmuranchi.ac.in/ |
Important Admission Notice
Admission to B.Sc. computer application will be on the basis of entrance examination. The entrance examination of B.Sc. Computer application 2022 will be held on 14.08.2022 (Sunday). The merit list for admission will be prepared only on the basis of entrance test.
Syllabus
The entrance examination will be of multiple choice questions type (MCQ) consisting of 60 marks.
The level of question will be of 10+2 Standard.
The question paper will consist of General Knowledge and Current Affairs, Basic Computer Science, Physics, Mathematics, Reasoning, English.
Entrance Examination Details
Candidates need to carry a Hard Copy of Application form duly filled on Chancellor portal.
Candidates must carry an ID Proof (Aadhar Card/Admit Card of Class XII/or any other valid documents with photograph.
Candidates should not carry any Mobile or Electronic gadgets.
Exam Date & Place
Reporting Time – 9 : 30 AM
Exam Date & Day

Exam Start

Place

14.08.2022 – Sunday
10:00AM to 11:00PM
Dr. Shyama Prasad Mukherjee
University, Morabadi, Ranchi – 834008
How To Download PDF Notice of DSMPU B.Sc. Computer Application Entrance Exam Date 2022 ?
विद्यार्थी नोटिस को बहुत ही असानी से डाउनलोड कर सकते हैं DSMPU के ऑफिसियल website से या नीचे लिंक सेक्शन में दिया गया है | विद्यार्थी नोटिस डाउनलोड करके जरूर एक बार पढ़ लें |
Important Link
अगर आपके मन में अभी भी कोई प्रश्न है डॉ श्यामा प्रशाद मुख़र्जी यूनिवर्सिटी एग्जाम से सम्बंधित तो आप हमें कमेंट के जरिये बता सकते है हम आपके कमेंट का रिप्लाई जरूर करेंगे |
For any query regarding Jharkhand Job, Admission, Exam Date, Admit Card, Result. You Can comment in the comment section below or send you query to email address.
| | |
| --- | --- |
| झारखंड जॉब की जानकारी के लिए यहाँ पर जाए | Jharkhand Job |
| झारखंड मे कॉलेज, विश्वविद्यालय एडमिशन जानकारी के लिए यहाँ पर जाए | Admission |
| Result की जानकारी के लिए यहाँ पर जाए | Result |
| एड्मिट कार्ड की जानकारी के लिए यहाँ पर जाए | Admit Card |