JSSC Diploma Level Recruitment 2022 : झारखण्ड कर्मचारी चयन आयोग की तरफ से Diploma Level के 176 पदों पर भर्ती का नया नोटिस जारी किया है | जो अभ्यर्थी निम्न पदों पर योग्यता रखता है | वह ऑनलाइन के माध्यम से फॉर्म भरेंगे | अभ्यर्थी Official नोटिस एक बार जरूर पढ़े | JSSC JLACE Recruitment 2022
Latest Update – इच्छुक अभ्यर्थी 27 दिसंबर 2022 से फॉर्म ऑनलाइन के माध्यम से भरेंगे | Notice नीचे लिंक सेक्शन में दिया गया है |
JSSC Diploma Level Recruitment 2022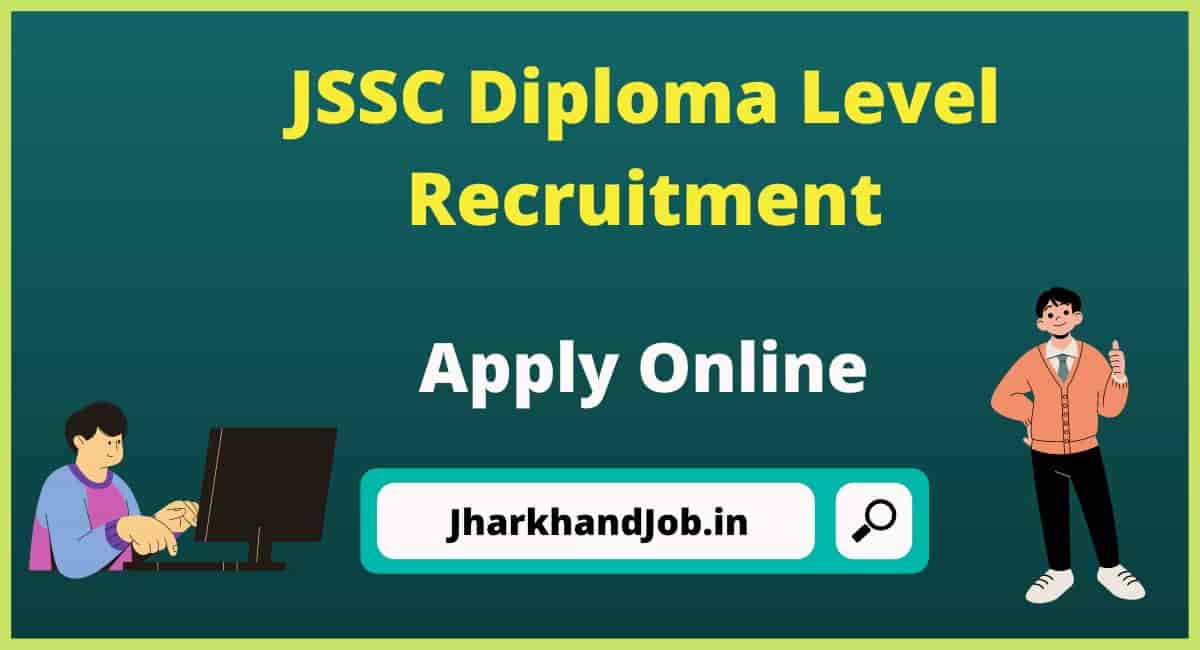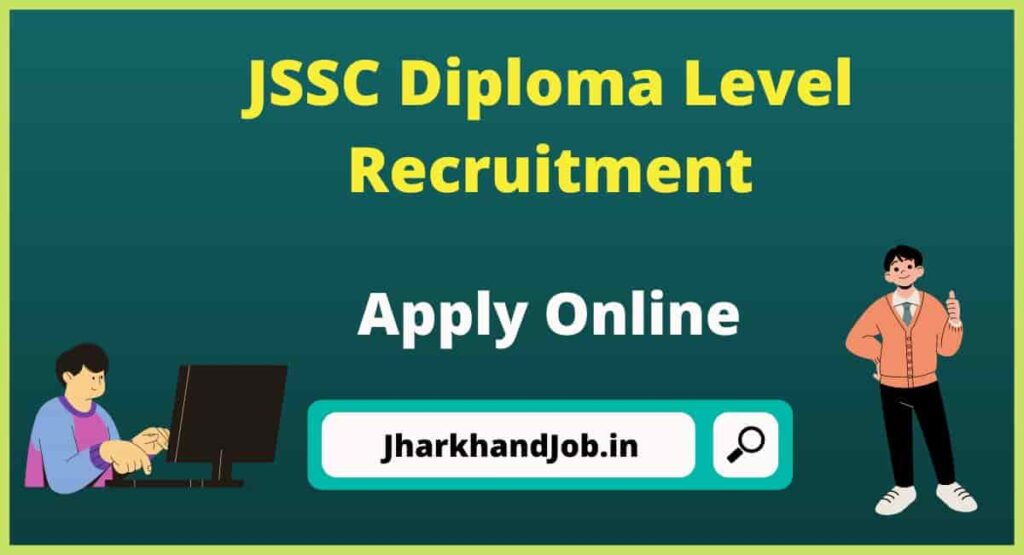 | | |
| --- | --- |
| Article | JSSC Diploma Level Recruitment 2022 |
| Authority | Jharkhand Staff Selection Commission |
| Category | Recruitment |
| Exam Name | JDLCCE 2022 |
| Post Name | Various Post |
| Total Post | 176 |
| Advert. No. | 21/2022 & 22/2022 |
| Last Date | 26.01.2023 |
| Selection Mode | JSSC Online Through |
| Official Website | www.jssc.nic.in |
Vacancy Details
| | | |
| --- | --- | --- |
| पद का नाम | Regular | Backlog |
| खान निरीक्षक | 32 | 01 |
| कनीय अभियंता | 19 | 07 |
| मोटरयान निरीक्षक | 44 | 02 |
| स्ट्रीट लाईट इस्पेक्टर | 55 | 00 |
| पाइप लाईट इस्पेक्टर | 16 | 00 |
Education Qualification
| | |
| --- | --- |
| खान निरीक्षक | झारखण्ड सरकार द्वारा अनुमोदित किसी मान्यता प्राप्त संस्थान से खनन अभियंत्रण में डिप्लोमा | |
| कनीय अभियंता | झारखण्ड सरकार द्वारा अनुमोदित किसी मान्यता प्राप्त संस्थान से यांत्रिक अभियंत्रण में डिप्लोमा | |
| मोटरयान निरीक्षक | झारखण्ड सरकार द्वारा अनुमोदित किसी मान्यता प्राप्त संस्थान से ऑटोमोबाइल अभियांत्रिक में डिप्लोमा | |
| स्ट्रीट लाईट इस्पेक्टर | झारखण्ड सरकार द्वारा अनुमोदित किसी मान्यता प्राप्त संस्थान से विद्युत ट्रेड में डिप्लोमा | |
| पाइप लाईट इस्पेक्टर | झारखण्ड सरकार द्वारा अनुमोदित किसी मान्यता प्राप्त संस्थान से प्लम्बिंग में डिप्लोमा | |
Age Limit
उम्र की गणना – 01.08.2022 की जाएगी | आवेदक का न्यूनतम उम्र – 18 वर्ष होना चाहिए |
| | |
| --- | --- |
| कोटिवर | अधिकतम उम्र |
| General | 35 |
| BC – 1 & BC – 2 | 37 |
| Women | 38 |
| SC / ST | 40 |
Application Fee
Pay Online Mode – Debit / Credit , Net banking etc.
| | |
| --- | --- |
| Gen / OBC | 100 /- |
| SC / ST | 50 /- |
How To Apply JSSC Diploma Level Recruitment 2022 ?
Candidate will be apply Online through official website JSSC from 12.12.2022. As Link Given in the link Section.
Go to Home page of JSSC and Click On "Application Forms(Apply)"
Click Again on Online Application for JDLCCE-2022.
Now Registration and Login As link will be given in the Link Section.
Take A Print OUT for Future Reference.
Important Date
Advert. Published
25.11.2022
Apply Online Start Date
27.12.2022
Apply Online Last Date
26.01.2023
Last Payment Date
28.01.2023
Photo & Signature
Upload Last Date
31.01.2023
Modification in Application
01 to 05.02.2023
Important Link
Check Also –
If you have any query or doubt then you can comment down below. We will reply to each and every comment.
Bookmark this for getting all the latest update at one place such as Job, Admission, Result, Admit card , Scholarship etc. and also many more thing.