Jharkhand MLA List 2021 : झारखण्ड के विधायक लिस्ट 2021 के बारे में बताया गया है | जैसे कि आप सबको पता होगा कि दिसंबर 2019 को मुख्यमंत्री हेमंत सोरेन जी (JMM पार्टी) ने शपथ ली | इसमें झारखण्ड मुक्ति मोर्चा (JMM) एवं इंडियन नेशनल कांग्रेस (INC) गठबंधन ने जीत हासिल की थी |
झारखण्ड विधानसभा चुनाव में किस पार्टी को कितने कितने सीट हासिल हुए | सभी जानकारी नीचे दी गयी है |
| | |
| --- | --- |
| Party | Seats |
| Jharkhand Mukti Morcha | 29 |
| Bharatiya Janata Party | 26 |
| Indian National Congress | 18 |
| All Jharkhand Students Union | 2 |
| Rashtriya Janata Dal | 1 |
| National Congress Party | 1 |
| Communist party of India (ML) (Liberation) | 1 |
| Independent | 2 |
| Vacant | 1 |
| Total | 81 |
Jharkhand MLA List 2021 : झारखण्ड के विधायक लिस्ट 2021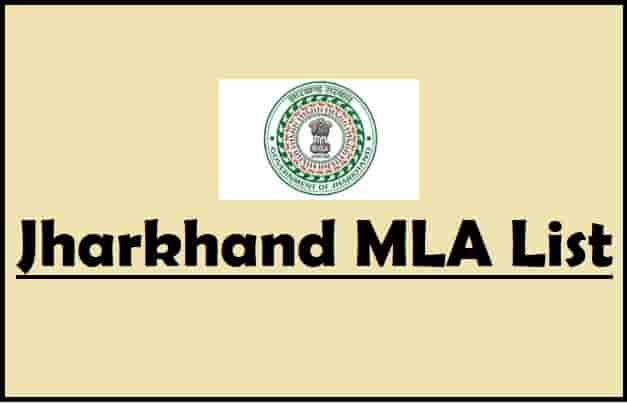 | | | | |
| --- | --- | --- | --- |
| S.No. | Constituency Name | Elected MLA | Party |
| 01 | Rajmahal | Anant Kumar Ojha | BJP |
| 02 | Borio | Lobin Hembrom | JMM |
| 03 | Barhait | Hemant Soren | JMM |
| 04 | Litipara | Dinesh William Marandi | JMM |
| 05 | Pakaur | Alamgir Alam | INC |
| 06 | Maheshpur | Stephen Marandi | JMM |
| 07 | Sikaripara | Nalin Soren | JMM |
| 08 | Nala | Rabindra Nath Mahato | JMM |
| 09 | Jamtara | Irfan Ansari | INC |
| 10 | Dumka | Basant Soren | JMM |
| 11 | Jama | Sita Murmu | JMM |
| 12 | Jarmundi | Badal Patralekh | INC |
| 13 | Madhupur | Haji Hussain Ansari | JMM |
| 14 | Sarath | Randhir Kumar Singh | BJP |
| 15 | Deoghar | Narayan Das | BJP |
| 16 | Poreyahat | Pradeep Yadav | INC |
| 17 | Godda | Amit Kumar Mandal | BJP |
| 18 | Mahagama | Dipika Pandey Singh | INC |
| 19 | Kodarma | Dr. Neera Yadav | BJP |
| 20 | Barkatha | Amit Kumar Yadav | Independent |
| 21 | Barhi | Umashankar Akela | INC |
| 22 | Barkagaon | Amba Prasad | INC |
| 23 | Ramgarh | Mamta Devi | INC |
| 24 | Mandu | Jai Prakash Bhai Patel | BJP |
| 25 | Hazaribagh | Manish Jaiswal | BJP |
| 26 | Simaria | Kishun Kumar Das | BJP |
| 27 | Chatra | Satyanand Bhogta | RJD |
| 28 | Dhanwar | Babulal Marandi | BJP |
| 29 | Bagodar | Vinod Kumar Singh | CPI (ML)L |
| 30 | Jamua | Kedar Hazra | BJP |
| 31 | Gandey | Dr. Sarfraz Ahmad | JMM |
| 32 | Giridih | Sudivya Kumar | JMM |
| 33 | Dumri | Jagarnath Mahto | JMM |
| 34 | Gomia | Lambodar Mahto | AJSU |
| 35 | Bermo | Kumar Jaimangal | INC |
| 36 | Bokaro | Biranchi Narayan | BJP |
| 37 | Chandankiyari | Amar Kumar Bauri | BJP |
| 38 | Sindri | Indrajit Mahato | BJP |
| 39 | Nirsa | Aparna Sengupta | BJP |
| 40 | Dhanbad | Raj Sinha | BJP |
| 41 | Jharia | Purnima Niraj Singh | INC |
| 42 | Tundi | Mathura Prasad Mahato | JMM |
| 43 | Baghmara | Dulu Mahato | BJP |
| 44 | Baharagora | Samir Kr. Mohanty | JMM |
| 45 | Ghatsila | Ramdas Soren | JMM |
| 46 | Potka | Sanjib Sardar | JMM |
| 47 | Jagsalai | Mangal Kalindi | JMM |
| 48 | Jamshedpur East | Saryu Roy | Independent |
| 49 | Jamshedpur West | Banna Gupta | INC |
| 50 | Ichaghar | Sabita Mahato | JMM |
| 51 | Seraikella | Champai Soren | JMM |
| 52 | Chaibasa | Deepak Birua | JMM |
| 53 | Majhgaon | Niral Purty | JMM |
| 54 | Jaganathpur | Sona Ram Sinku | INC |
| 55 | Manoharpur | Joba Majhi | JMM |
| 56 | chakradharpur | Sukhram Oraon | JMM |
| 57 | Kharsawan | Dhasrath Gagai | JMM |
| 58 | Tamar | Vikash Kumar Munda | JMM |
| 59 | Torpa | Koche munda | BJP |
| 60 | Khunti | Nilkanth Singh Munda | BJP |
| 61 | Silli | Sudhesh Kumar Mahto | AJSU |
| 62 | Khijri | Rajesh Kachhap | INC |
| 63 | Ranchi | Chandreshwar Prasad Singh | BJP |
| 64 | Hatia | Navin Jaiswal | BJP |
| 65 | Kanke | Sammari Lal | BJP |
| 66 | Mandar | Bandhu Tirkey | INC |
| 67 | Sisai | Jiga Susaran Horo | JMM |
| 68 | Gumla | Bhushan Tirkey | JMM |
| 69 | Bishunpur | Chamra Linda | JMM |
| 70 | Simdega | Bhushan Bara | INC |
| 71 | Kolebira | Naman Bixal Kongari | INC |
| 72 | Lohardaga | Rameshwar Oraon | INC |
| 73 | Manika | Ramachandra Singh | INC |
| 74 | Latehar | Baidyanath Ram | JMM |
| 75 | Panki | Kushwaha Shashi Bhusan Mehta | BJP |
| 76 | Daltonganj | Alok Kumar Chaurasiya | BJP |
| 77 | Bishrampur | Ramachandra Chandravanshi | BJP |
| 78 | Chhatarpur | Pushpa Devi | BJP |
| 79 | Hussainabad | Kamlesh Kumar Singh | NCP |
| 80 | Garhwa | Mithilesh Kumar Thakur | JMM |
| 81 | Bhawanathpur | Bhanu Pratap Shahi | BJP |
5वी झारखण्ड विधानसभा की महत्वपूर्ण जानकारी
| | |
| --- | --- |
| Type | State Assembly |
| Term Limit | 5 Years |
| Speaker | Rabindra Nath Mahato (JMM), since 7 January 2020 |
| Leader of the House (Chief Minister) | Hemant Soren (JMM), Since 29 December 2019 |
| Leader of the opposition | Babulal Marandi (BJP), since 24 February 2020 |
| Official Website (Jharkhand Vidhansabha) | http://jharkhandvidhansabha.nic.in/ |
जरूर करेंगे | Jharkhand MLA List 2021 झारखण्ड के विधायक लिस्ट 2021
For any query regarding Jharkhand Job, Admission, Exam Date, Admit Card, Result. You Can comment in the comment section below or send you query to email address.
How many MLA seat are present in Jharkhand State Assembly Election?
Total no is 81
How many vidhansabha seat are available in jharkhand vidhansabha?
81
What is term for MLA?
5 Years
Who is the Current Chief Minister of Jharkhand State?
Shri Hemant Soren (JMM)