Hello friends, Jharkhand Academic Council (JAC) has released the notification at the official website to fill up Jharkhand JAC Class 11 Examination Form 2023 Session 2022-24. Those students who are studying in 11th class and preparing for the exam. Online Registration and Exam Form is available at official website of JAC. So, Registration can be done at the official website and fill up the exam form.
Students or Parents must read this article because, here I am going to share all the information regarding filling up examination form and some other information as well. It is very important for all the students who are studying in 11th class, because all the students need to fill up this examination form before giving exam.
Latest update : 11 Class form apply has been start as Given short Notice in the Important Link Section.
Jharkhand JAC Class 11 Exam Form 2023 – Session 2022-24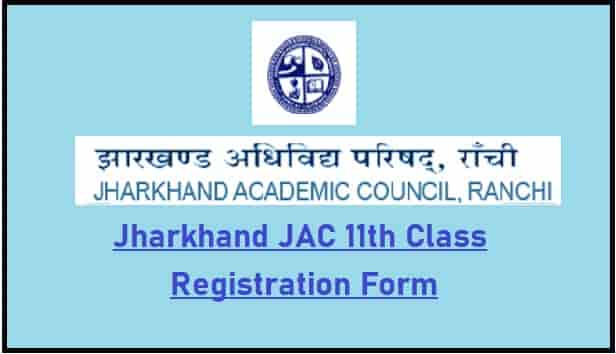 | | |
| --- | --- |
| Article | JAC 11th Exam Form Download |
| Category | Examination Application Form |
| Authority | Jharkhand Academic Council |
| Name of Exam | Class 11th Exam |
| Eligible Class | 11 |
| Advt. No. | 65/2022 |
| State | Jharkhand |
| Current Year | 2022-24 |
| Application Form | Application PDF link is given below |
| Official Website | www.jac.jharkhand.gov.in |
Jharkhand JAC Class 9th Examination Form 2023- Session 2022-24
How to Fill Up JAC 11th Class Exam Form
Those students who are studying in 11th class. They need to fill up application form and after filling up they have to submit their application form to the school for their exam registration.
Here is all the steps given below to fill up form –
Firstly, visit the official website of JAC – https://jac.jharkhand.gov.in/jac/ 

(Direct Link is given below)

At the homepage, go to "Recent Announcements" section.
Click on the "class xi exam form 2023 || registration form 2022-24".
Now, you will be redirected on another page of JAC.
Candidates need to download the online JAC 11th Registration Form 2023 and fill it under the guidance of school authority.
Fill all the details as mentioned in the hard copy of the registration form.
Use your registered mobile number to log in at the website for entering the details.
Now, an OTP will be sent to registered mobile number and the school need to enter the OTP to proceed.
Enter the details of each and every students by clicking on the link "Add New Student".
Now, school will save it and take print out of the checklist of each students for checking details offline.
At last finish the payment process through online payment method.
Note – Students do not fill the online form. Students just have to download offline form and after fill up the form. Submit it in your school authority. It is work of school authority to fill up the online examination form of the students.
Important Date
| | |
| --- | --- |
| ऑनलाइन फार्म भरने तथा जिला पदाधिकारी के पास जमा करने की तिथि | 01.10.2022 to 04.11.2022 |
| जिला शिक्षा पदाधिकारी द्वारा प्रपत्र Approve करने की तिथि | 07.10.2022 to 04.11.2022 |
| Online चालान Generate करने की तिथि | 04.11.2022 |
| चालान के माध्यम से बैंक में शुल्क जमा करने की तिथि | 07.11.2022 |
| | |
| --- | --- |
| ऑनलाइन फार्म भरने तथा जिला पदाधिकारी के पास जमा करने की तिथि | 05.11.2022 से 19.11.2022 |
| जिला शिक्षा पदाधिकारी द्वारा प्रपत्र Approve करने की तिथि | 06.11.2022 से 21.11.2022 |
| Online चालान Generate करने की तिथि | 21.11.2022 |
| चालान के माध्यम से बैंक में शुल्क जमा करने की तिथि | 22.11.2022 |
Important Link
I hope this article was helpful for you. If this was helpful then you may tell us in comment section so that we can get to know that these kind of information is really helping to others so that, we can make more this kind of blog for you and keep you updated with latest information. Jharkhand JAC Intermediate Registration
Also Check This –
For any query regarding Jharkhand Job, Admission, Exam Date, Admit Card, Result. You Can comment in the comment section below or send you query to email address. Jharkhand JAC Class 11 Examination Form 2023