Dumka District ITI Admission Form 2021 : ITI करने वाले विद्यार्थियों के लिए दुमका जिले के विभिन्न ITI कॉलेज में खाली सीटों को भरने लके लिए Notification जारी किया है क्यूंकि सत्र 2021-22-23 JCECEB के 2nd Round समाप्त होने के बाद दुमका जिले के ITI कॉलेज में कई सीट खाली रह गया है | झारखण्ड के इच्छुक विद्यार्थी ऑफलाइन के माध्यम से फॉर्म भर कर आवेदन कर सकता है | Dumka ITI Admission Form 2021, Dumka ITI Application Form 2021
Latest Update : 8वीं और 10वहीं पास विद्यार्थी ऑफलाइन के माध्यम से फॉर्म भर सकते हैं फॉर्म भरना 30.10.2021 से शुरू हो गया है | Please check full Provisional Merit List as given below
Dumka District ITI Admission Form 2021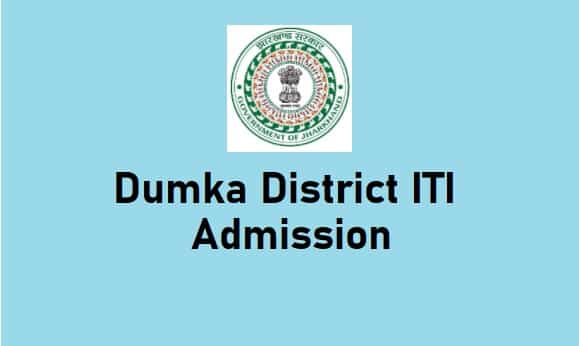 | | |
| --- | --- |
| Article | Dumka District ITI Admission Form 2021 |
| Category | Dumka ITI |
| State | Jharkhand |
| Mode of Apply | Offline |
| Counselling Status | Apply Begin |
| Diploma in | ITI |
| Session | 2021-22-23 |
| Official Website | https://dumka.nic.in/ |
Dumka ITI Application Form 2021
Dumka has released notification for the admission in ITI College of Jharkhand. Those students who wants to get admission in ITI. They can fill up form through Offline mode. Candidates should pass at least 8th or 10th class to get admission in ITI. If you want to know more detail about ITI Course & ITI Admission then you may read this article completely.
दुमका आईटीआई नामांकन 2021
Dumka District has issued notification for applying Form. Students can apply offline for Admission. For more information read this article
Educational Qualification
| | |
| --- | --- |
| Trades Name | Educational Qualification |
| Welder, Carpenter, Meson, Sheet Metal Sheet Worker, Wireman | 8th Pass |
| Other Trades | 10th Pass |
Age Limit
Minimum Age – 14 Years
Maximum Age – 40 Years
For More information, check Official notification.
Dumka District ITI
ITI Dumka
ITI Jarmundi, Dumka
ITI Saraiyahat, Dumka
ITI Women, Dumka
Application Fee
प्रवेश करने के समय अभियार्थी को 500 रूपये मात्र कौशल मानी के रूप में जमा करना होगा | जो बाद में वापस के दिया जाएगा |
How to Fill Up Dumka ITI Admission Form 2021
There are few steps that you have to follow for applying Offline.
Go to in the Section Link and Download Notification with Form
Now Click on "Download".
All Information such Notification, Prospectus, Helpdesk, Log In Option appeared.
Complete the form, and Send on Address as Given in the Notification.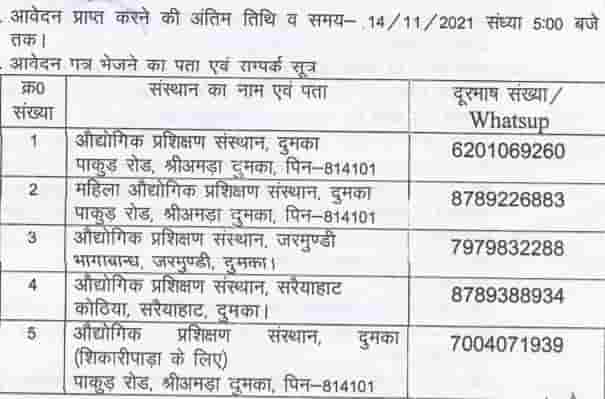 Note – अगर आपके मन में अभी भी कोई प्रश्न है तो आप हमें कमेंट के जरिये बता सकते है हम आपके कमेंट का रिप्लाई जरूर करेंगे |
Document Required For Admission
दो लेटेस्ट फोटो
Copy of Academic certificate with Mark Sheet
आवासीय प्रमाण पत्र का फोटो कॉपी
जाति प्रमाण पत्र का कॉपी
Important Date
| | |
| --- | --- |
| Start Date | 30.10.2021 |
| Last Date | 14.11.2021 |
Provisional Merit List
Important Link
Check Also-
For any query regarding Jharkhand Job, Admission, Exam Date, Admit Card, Result. You Can comment in the comment section below or send you query to email address.
| | |
| --- | --- |
| झारखंड जॉब की जानकारी के लिए यहाँ पर जाए | Jharkhand Job |
| झारखंड मे कॉलेज, विश्वविद्यालय एडमिशन जानकारी के लिए यहाँ पर जाए | Admission |
| Result की जानकारी के लिए यहाँ पर जाए | Result |
| एड्मिट कार्ड की जानकारी के लिए यहाँ पर जाए | Admit Card |
How to Apply Dumka ITI Form 2021?
Dumka ITI Application form fill by Offline as given in the link – Click Here and Download Form
Dumka ITI Form कहाँ से मिलेगा ?
दुमका का आईटीआई फॉर्म jharkhandjob.com पर अपलोड कर दिया गया है |