CBSE Board Single Girl Child Scholarship 2021 : CBSE बोर्ड के तरफ से "Single Girl Child Scholarship Class X" के लिए छात्राओं को ऑनलाइन अप्लाई करने के आमंत्रित किया हैं | जो छात्रा 10वीं पास हो गई है और आगे भी 11वीं और 12वीं की पढ़ाई जारी है तो "Single Girl Child Scholarship 2021" के लिए ऑनलाइन के द्वारा फॉर्म अप्लाई कर सकते हैं | Notification को डाउनलोड कर एक बार Eligibility Criteria जरूर देख लें | Class X Single Girl Child Scholarship 2021
Latest update : Apply फॉर्म 27 दिसम्बर से शुरू हो गया है | नीचे दिए गए लिंक के माध्यम से छात्रा फॉर्म अप्लाई कर सकते हैं|
CBSE Board Single Girl Child Scholarship 2021 | Class X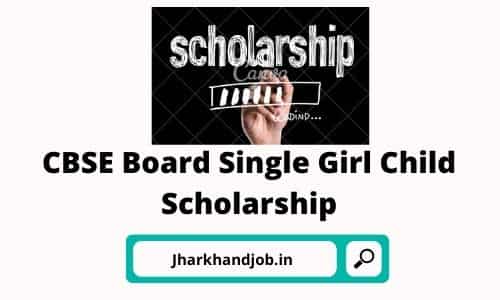 | | |
| --- | --- |
| Board Name | Central Board of Secondary Education (CBSE) |
| Aritcle Category | CBSE Board Single Girl Child Scholarship 2021 |
| Pass Year | 2021 |
| Conducting Organisation | CBSE |
| Class | 10 |
| Scholarship | Single Girl Child Scholarship |
| Official Website | http://cbseacademic.nic.in/ |
Scheme Details
सीबीएसई ने 2006 में सिंगल गर्ल चाइल्ड स्कॉलरशिप योजना शुरू की थी। इस योजना का उद्देश्य लड़कियों के बीच शिक्षा को बढ़ावा देने और मेधावी छात्रों को प्रोत्साहन प्रदान करने के माता-पिता के प्रयासों को पहचानना है।
इस योजना के तहत, सीबीएसई से संबद्ध स्कूलों से कक्षा 10 की परीक्षा उत्तीर्ण करने वाली छात्राएं इस छात्रवृत्ति के लिए आवेदन कर सकती हैं। चयनित होने पर उन्हें प्रति माह 500 रुपये दिए जाएंगे। यह छात्रवृत्ति छात्रों को 2 वर्ष के लिए प्रदान की जाएगी और राशि का वितरण निम्न प्रकार से किया जाएगा –
Class
Scholarship Per Month
Total Scholarship
Class 11th
INR 500
INR 6000
Class 12th
INR 500
INR 6000
Total Scholarship for 2 years
INR 12,000
Eligibility Criteria
The Board has a scholarship for Single Girl Child pursuing her education at class XI and XII in CBSE affiliated schools who have passed class X from the School affiliated with CBSE.
The girl students who are the only child of their parents and who have scored 60% or more marks in class X are eligible for the award of scholarship.
Monthly tuition fee should not exceed Rs.1,500/- pm in Class X and 10% enhancement for Class XI & XII.
The Scholarship awarded shall be renewed for a period of one year i.e. successful completion of class XI and student have scored 50% or more marks in Class XI and promoted to class XII.
The scholarship shall be awarded to Indian Nationals only.
NRI applicants of the Board are also eligible for the award. The tuition fee for the NRIs has been decided maximum of Rs.6,000/- per month.
A Scholar under the scheme while availing scholarship can enjoy other concession(s) given by the school in which she is studying other organization(s).
How To Apply Online form Form CBSE Board Single Girl Child Scholarship 2021 ?
रूचि रखने वाली तथा योग्य छात्रा ऑनलाइन के द्वारा फॉर्म भर सकते हैं –
छात्रा को CBSE के official website "www.cbse.gov.in" के द्वारा कर सकती हैं |
Main Page पर जाकर "छात्रवृति" पेज क्लिक करे
Now CLICK "Guidelines and Application Forms/Apply Online"
Download Notice Check Eligibility Criteria
School must finish the verification of application by 25.01.2022 in any case.
सभी लिंक दिख जायेगा जैसा कि नीचे Image में हैं दिया गया है –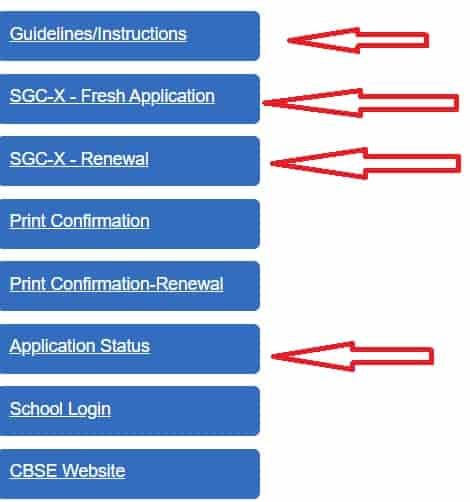 Student can Login by User ID and Password as provided by CBSE Board
Important Date
| | |
| --- | --- |
| Start Date | 27.12.2021 |
| Last Date | 17.01.2022 |
| Verification Application Date | 31.12.2021 to 25.01.2022 |
Important Link
You Can comment in the comment section below or send your query to email address.
| | |
| --- | --- |
| झारखंड जॉब की जानकारी के लिए यहाँ पर जाए | Job |
| Whatsapp Group Join करे | यहाँ क्लिक करे |
| झारखंड मे कॉलेज, विश्वविद्यालय एडमिशन जानकारी के लिए यहाँ पर जाए | Admission |
| Result की जानकारी के लिए यहाँ पर जाए | Result |
| एड्मिट कार्ड की जानकारी के लिए यहाँ पर जाए | Admit Card |
CBSE Merit Scholarship for Single Girl Child (Class X – 2021), CBSE Scholarship single Girls Child 2021, CBSE Single Girl Child Scholarship Class X 2021 Form