Child Protection Service Recruitment 2022 : बाल संरक्षक सेवाएं (Child Protection Service) लोहरदगा जिला स्तर पर विभिन्न पदों पर भर्ती के लिए अधिसूचना जारी किया गया हैं | झारखण्ड के अभ्यर्थिओं से खाली पदों पर भरने के लिए निमंत्रण किया गया हैं | अभ्यर्थी फॉर्म भरने से पहले एक बार Official Notification जरूर पढ़े | Child Protection Service Vacancy 2022, Child Protection Service Bharti 2022
Latest Update – फॉर्म भरना शुरू हो गया हैं अभ्यर्थी फॉर्म लिंक सेक्शन से डाउनलोड कर भर सकते हैं | अंतिम तारीख – 20.09.2022 हैं |
Child Protection Service Recruitment 2022 – Apply Offline
| | |
| --- | --- |
| Article | Child Protection Service Recruitment 2022 |
| Category | Jharkhand Job |
| Authority | Child Protection Service |
| Start Date | 25 08.2022 |
| Total Post | 11 |
| Job Type | Contractual |
| Apply Mode | Offline |
| Official Website | www.lohardaga.nic.in |
Vacancy Details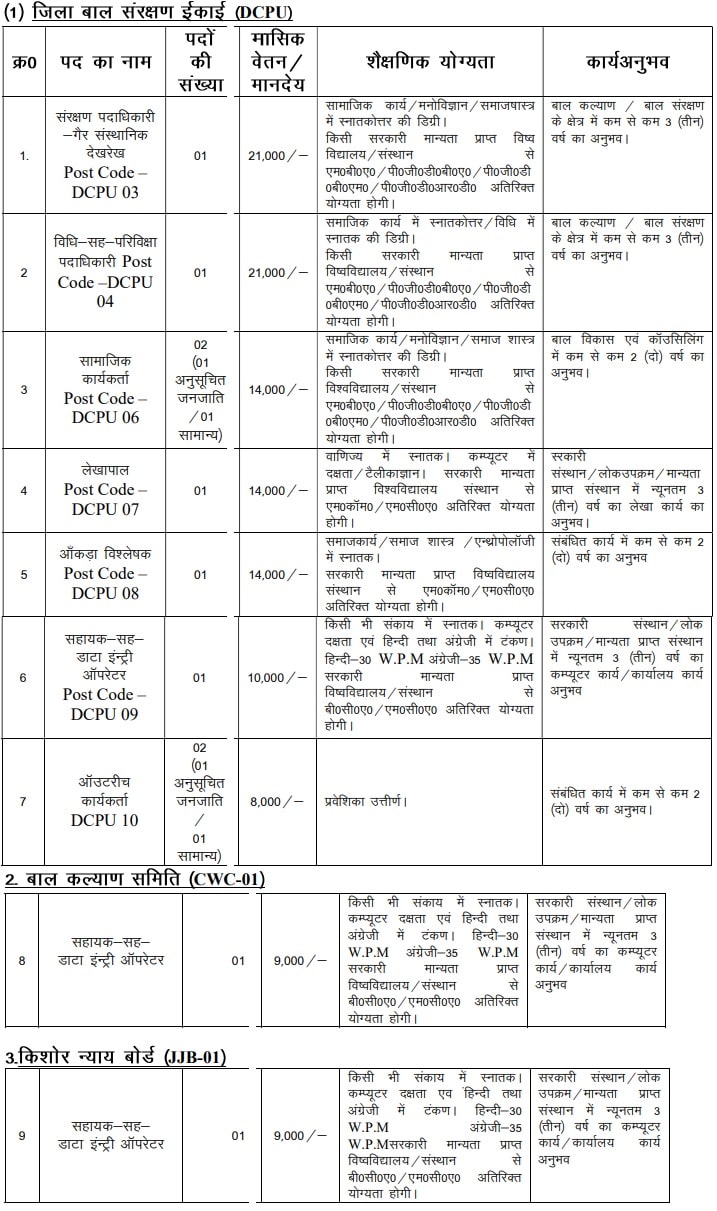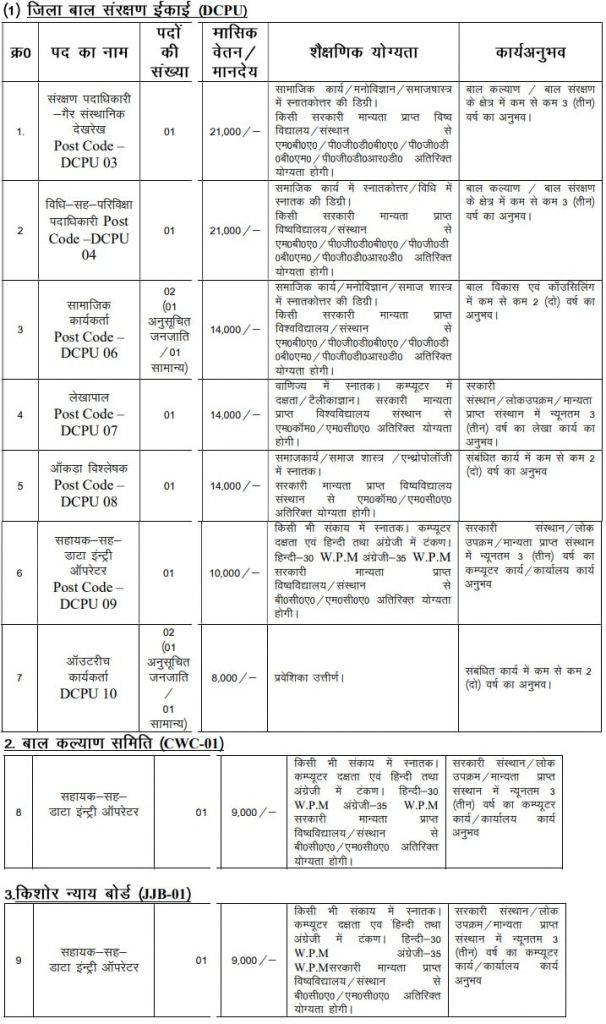 Note – अभ्यर्थी को 10th और 12th पास झारखण्ड के सरकारी मान्यता प्राप्त स्कूल से होना चाहिए
Age Limit
आयु की गणना 01.08.2022 पर किया जायेगा |
Post Cade
Age limit
DCPU – 03 , 04 , 06, 07 , 08
30 – 45
DCPU – 09 , 10
CWC- 01 and JJB-01
21 – 35
Application Fee
0/- , No Any Application Fee.
How To Apply CPS Recruitment 2022 ?
अभ्यर्थी फॉर्म भरने के लिए Application Form डाउनलोड कर सकते हैं तथा Caffe में जाकर प्रिंट आउट निकाल सकते हैं | फॉर्म के भर लेने के बाद अपने सभी दस्तावेजों तथा दिए गएअधिसूचना के अनुसार दिए गए पत्ते पर डाक के माध्यम से या अपने हांथों से बंद लिफाफे को अंतिम तारीख से पहले जमा कर सकते हैं |
Address / पत्ता – जिला समाज कल्याण कार्यालय , लोहरदगा , प्रथम तल्ला , पाण्डेय गणपत राय भवन , समाहरणालय लोहरदगा – 835302
Important Date
| | |
| --- | --- |
| Start Date | 25.08.2022 |
| Last Date | 20.09.2022 |
Important Link
Check Also-
अगर आपके मन में अभी भी कोई प्रश्न है CPS Recruitment 2022 से सम्बंधित तो आप हमें कमेंट के जरिये बता सकते है हम आपके कमेंट का रिप्लाई जरूर करेंगे |
For any query regarding Jharkhand Job, Admission, Exam Date, Admit Card, Result. You Can comment in the comment section below or send you query to email address.
Frequently Asked Question
When is the last date for submission ?
Last Date for Submission is on 20.09.2022.
How can I Apply Form ?
You Can Apply Form offline through.
How much is Application Form fee ?
No, Any Application Form Fee.
How Can I Get Application Form ?
You can Get Application form through official website of lohardaga.nic.in or direct link available on Jharkhandjob.in